[ What is Acupuncture? ]
Acupuncture is a complete medical system that is used to diagnose and treat illness, prevent disease and improve well-being. It is effective for physical, psychological and emotional problems. Acupuncture originated in China more than 3,000 years ago and, due to its proven effectiveness, has been embraced throughout the world.
How Acupuncture Works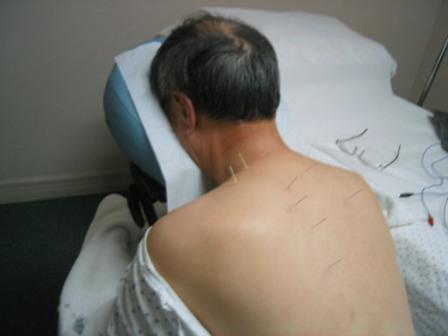 Recently, science has determined that human beings are complex bioelectric systems. This understanding has been the foundation of acupuncture practice for several thousand years.
Energy circulates throughout the body along well-defined pathways. Points on the skin along these pathways are energetically connected to specific organs, body structures, and systems. If this energy circulation is disrupted, optimum function is affected and this results in pain or illness. By inserting needles and applying heat or electrical stimulation at very precise acupuncture points, acupuncture treatment balances the circulation of energy and encourages the body to promote natural healing and to improve functioning.
The modern scientific explanation is that needling the acupuncture points stimulates the nervous system to release chemicals in the muscles, spinal cord, and brain. These chemicals will either changes the experience of pain or they will trigger the release of other chemicals and hormones which influence the body's own internal regulating system.
The improved energy and biochemical balance produced by acupuncture results in stimulating the body's natural healing abilities, and in promoting physical and emotional well-being.
Type Of Treatment
Treatment with acupuncture needles is the most commonly used technique. However, acupuncturists may utilize other forms of treatment such as moxibustion (a form of heat therapy) and a variety of massage and movement techniques. They may also recommend dietary modifications, herbal prescriptions and specific therapeutic exercises.
What is the Scope of Acupuncture
While acupuncture is often associated with pain control, in the hands of a well-trained practitioner it has much broader applications. Acupuncture can be effective as the only treatment used, or as the support of adjunct to other medical treatment forms in many medical and surgical disorders.
The World Health Organization recognized the use of acupuncture in the treatment of a wide range of medical problems, including:
● Digestive disorders: gastritis and hyperacidity, spastic colon, constipation, diarrhea.

● Respiratory disorders: allergies, sinusitis, sore throat, bronchitis, asthma, recurrent chest infection.

● Neurological and muscular disorders: headaches, migraines, facial tics, neck pain, rib neuritis, frozen shoulder,

tennis elbows, carpal tunnel syndrome, various forms of tendonitis, low back pain, sciatica, osteoarthritis,

fibromyalgia.

● Urinary, menstrual, and reproductive problems.
Acupuncture is particularly useful in resolving physical problems related to tension and stress and emotional conditions.
Benefits
Since acupuncture promotes the body's natural healing ability, most conditions can be corrected or improved. Also, acupuncture is a comprehensive system of preventive health care and health maintenance.
Many athletes have discovered that acupuncture treatment helps them achieve optimum performance levels. Recently, acupuncture detoxification treatments have been recognized as a valid form of therapy for chemical dependency problem.
How Acupuncture Feels
Prior to their first treatment, many people do not believe that acupuncture can be painless. Different sensations such as warmth or pressure may be felt, but the energetic sensation differs from pain. People often comment that the feeling is unfamiliar but pleasant and relaxing.
Acupuncture needles are very fine, about the size of a thick hair. They are solid, and nothing is injection through them. Over the centuries, refined needle insertion techniques have been developed which enable the skilled acupuncture practitioner to place a needle with little or no sensation.
In some cases it is not necessary to use needles at all. For example, when treating young children, infants, or sensitive adults, there are other techniques which are equally as effective. If you have a real fear of needles, discuss it with your acupuncturist. An appropriate treatment strategy can always be agreed upon. Like Acupressure Massage (TuiNa), Chinese Herbs, Cupping Therapy, Moxibustion Therapy, Reflexology, Swedish Massage.
Number of Treatment
Since each person is unique, the number of treatments needed will vary. Among the determining factors are the type of condition, whether the condition is chronic or acute, and the vitality of the individual.
For complex or long-standing conditions, one or two treatments a week for several weeks may be recommended. For acute problems, usually fewer visits are required, and for health maintenance, four sessions a year may be all that is necessary.
Licensing, Registration and Certification
In the United States, the regulation of health care practice differs from state to state. Some states do not regulate acupuncture. In others, registration is required. Many states license qualified acupuncturists who have demonstrated their competence through education, training and examination.
Standards to practice acupuncture safely and effectively have been established by the National Certification Commission for Acupuncture and Oriental Medicine (NCCAOM). Many States use the NCCAOM examination and certification for meeting their licensing or registration requirements. Other states have developed their own examination process.
All our practitioners are National Board Certified Acupuncturists and Chinese Herbologist (NCCAOM) in the USA with Texas State License. Dr. Chernly is also the first licensed acupuncturist in Texas (AC00001).
Safety
State and federal agencies have established strict procedures for needle sterilization. Knowledge and proper utilization of these procedures are part of licensing, registration or certification requirements. In order to assure your complete confidence, many practitioners use pre-sterilized, disposable needles.
Insurance Coverage
Many health insurance policies cover acupuncture treatment. Our Acupuncture Center can assist you in determining your coverage. You also can go to our Insurance page to check if your insurance company covers acupuncture.
"DO's" and "DONT's" on the day of Treatment
To enhance the value of a treatment, the following guidelines are important:
● Do not eat an unusually large meal immediately before or after your treatment.
● Do not over-exercise, engage in sexual activity, or consumer alcoholic beverages within 6 hours before or after
the treatment.
● Plan your activities so that after the treatment you can get some rest, or at least not have to be working at top
performance. This is especially important for the first few visits.
● Continue to take any prescription medicines as directed by your regular doctor. Substance abuse (drugs and
alcohol) especially in the week prior to treatment, will seriously interfere with the effectiveness of acupuncture
treatment.
● Remember to keep good mental or written notes of what your response is to the treatment. This is
important for your doctor to know so that the follow-up treatments ca be designed to best help you and
your problem.
Source: The American Academy of Medical Acupuncture.